Sasuke's rogue ninja group, the Hebi, is viewed as a threat on a global scale. So why does Sasuke assemble a team?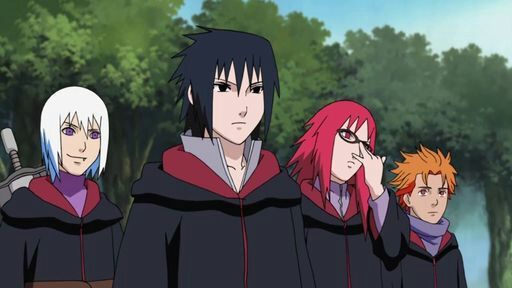 To find his brother Itachi, Sasuke needs to put together a squad. He abandoned Orochimaru and assembled a group of shinobi to accelerate the process of locating Itachi and engaging him in combat. The team consists of a sensory type for scouting and two violent ninjas to provide protection and support. Their sensory ninja Karin has the power to help people medically.
SASUKE GATHERS AND GIVES HIS SQUAD A NAME
Sasuke and Suigetsu leave Orochimaru's stronghold and make their way to imprisonment in chapter #348. Karin, the jail warden, is the next member Sasuke wishes to add to his team. Sasuke is questioned by Suigetsku as to how he's assembling a team. Sasuke declares, "I have a purpose. And working with a small group will help me get there more quickly. Sasuke continues by saying that ever since he teamed up with Orochimaru, he has been on the lookout for unique and powerful shinobi. He was aware that eventually, he would turn on him and start his own group.
Sasuke, according to Suigetsku, may perform much better than Karin. She researched Suigetsku and genuinely believed in the teachings of Orochimaru. And while there are shinobi that will be just as powerful and simpler to control, Karin, according to Sasuke, has a unique skill that no other shinobi have. At any time, Karin can bite Sasuke and offer him a few of her chakra. Sasuke's crew has come together that is prepared to leave for the very first time in chapter #352, which comes later. He says that their group would be known as "The Hebi" and that catching Itachi Uchiha will be their primary intention.
So there you have it. Sasuke needs to set up a team if he is to find Itachi. Having a few more muscle mass and assistance while he tries to find Itachi will speed things up and be beneficial.